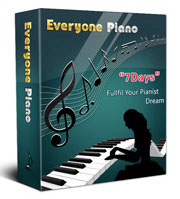 How to Connect the MIDI Keyboard?
My baby is learning piano, however, I felt the PRESSURE of the process deeply.
Children are living in a happiness society, aren't they? However, in parents' thoughts, children must try to learn as much knowledge as they can, Piano is one of this.  As we all know, piano is a luxurious musical instrument, many family cannot afford it. Moreover, maybe your house is not so big to put a piano in unfortunately, and then, you know nothing about any music knowledge, you couldn't give any help on learning piano to your child. All these trouble things result in your child playing skills stopped still.
Life is too bad, isn't it? (Did all these have any relationship with our theme? Sure! Don't worry man, let's go on!)
Now, all will be changed because of Everyone Piano. From now on, you never need to purchase an expensive piano. With Everyone Piano, you only need to connect a midi keyboard and install a VSTi sound source, a super Grand Piano will appear!
Just follow me to enjoy this incredible process.
What is a MIDI keyboard?
A
MIDI keyboard
is typically a piano-style user interface keyboard device used for sending MIDI signals or commands over a USB or MIDI cable to other devices connected and operating on the same MIDI protocol interface.
How to Connect the MIDI Keyboard?
First: Connect MIDI Keyboard to the USB interface of your computer.
Second: Run Everyone Piano, Click Settings->Audio Frequency-> choose MIDI Keyboard(eg: USB Keystation es88 In ) in the Input window.
As shown:
Ok, now, close the Settings window, try your MIDI Keyboard, you can also feel pressure sensitivity, it really like a true piano.
After this, you only need to install a excellent sound source to make Everyone Piano change into a Grand Piano. As how to install an excellent sound source for Everyone Piano please check this article: < How to Install VSTi Plugins for Everyone Piano?>
The Price of MIDI Keyboard
With M-audio keystation es88 for example, it has 88 velocity-sensitive keys, the price is only $200 more or less. So 49 keys or 61 keys may much cheaper than this. You can check details about them or get one from Amazon.
Ok, let me show our super musical equipment. SO AMAZING!!!! Try this FREE software Now!