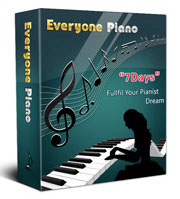 How to Install VSTi Plugins for Everyone Piano
VSTi stands for Virtual Studio Technology Instruments developed by Steinberg and it's an interface for integrating software synthesizers. A Software synthesizer is basically a computer program coded to produce or generate digital audio. Most of these synths are available as VST plug-ins and they're called VST instruments or VSTi. VSTi is most widely spread, which can be used on most parts of professional music software.
In the hardware platform which supports ASIO driver, VSTi can efficiently produce zero tag sound and have ability to simulate the sound of a real instrument. Information about ASIO, you can read another article: How to Reach Zero Time Delay by Using ASIO4ALL.
The music software which can use the VSTi plugins we called VSTi host, and Everyone Piano is one.
Everyone Piano contains two audio sources: mdaPiano, Plucked String. They are both good audio source for Piano. However, compared with professional audio source they are not the excellent one. Now I''d like to introduce a method to make your Everyone Piano like a real expensive piano. Cool….
How to Install VSTi Plugins:
As we know, professional audio source is very expensive, and the size always depends on the value, most of them are 1-2G. True Pianos is one excellent and well-known audio source, I'd like to use it as an example to introduce how to install VSTi plugins.
TruePianos is an Virtual Piano instrument plugin, the size is only 300mb. It was designed with exactly this in mind giving inspiration an instant GO as soon as you touch the keyboard. The CPU usage does not cross the borders even for 96khz host sampling rates, and for advanced polyphony it support multi-core CPUs, spreading load symmetrically.
The Process of installation is simple, you can install it without any trouble. besides one point which you should pay special attention to:
When there is a dialog box which ask you whether to install VSTi plugin, you should select Yes, and install VSTi plugin in the VSTi folder of Everyone Piano, or install it in the default directory, Everyone Piano can load it automatically.
After installation, You can launch TurePianos independently:
 Or, it can be use by Everyone Piano
Run Everyone Piano, Click Audio Source in menu -> TruePianos
There are many other excellent audio source which used by famous music maker, the installation is familiar with TruePianos.