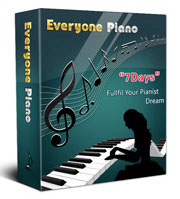 How to Reach Zero Time Delay by Using ASIO4ALL
Everyone Piano is trying their best to let all people play piano with little cost. So it can be run on almost all computers. However, a lot of PCs have no independent sound card, which may cause some noise when using Everyone Piano. If this, you can adjust the delay time to solve this problem.
It's really a pity for one who want to be a professional pianist, isn't it? Those trouble noise make us have no mood to practice. As how to solve this problem, I'd like to show you an especial method---Install an ASIO4ALL driver program.
Audio Stream Input/Output (ASIO) is a computer sound card driverr protocol for digital audio specified by Steinberg, providing a low-latency and high fidelity interface between a software application and a computer's sound card. Whereas Microsoft's DirectSound is commonly used as an intermediary signal path for non-professional users, ASIO allows musicians and sound engineers to access external hardware directly.
ASIO4ALL Download Site:
http://tippach.business.t-online.de/asio4all/downloads_1/ASIO4ALL_2_10_English.exe

Official Website:
http://www.asio4all.com
Steps to Install ASIO4ALL:
1. Download ASIO4ALL sound card driver, the size is about 400kb.

2. Double-click this icon on your computer

Follow the hints to install it. When finished, you cannot see it anymore, because it should be used by a carrier program.

3. In the main interface of Everyone Piano, click Settings—>Options—>Audio Frequency—>Output , select ASIO option.
You can set the delay time between 0-80 millisecond.
4. After the settings, you can see the ASIO4LL was loaded successfully by seeing the following icon:
It only needs some seconds or one minute for all process, Now you can enjoy a zero time delay performance in Everyone Piano.