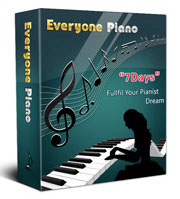 The 2012 Edition of Everyone Piano™ Is Here
Everyone Piano is the best free computer keyboard piano software. It not only supports playing a series of scores one by one, but also supports downloading 3 types of score formats like stave, right and left hand numbered musical notation and EOP file. With Everyone Piano, your baby does not have to attend the training class in piano; it is neither necessary to order the expensive piano for children; no need to pay for the piano teacher a sum of money; no necessary to supervise the children to practice the piano.
Download and Install Everyone Piano™ Now
To download Everyone Piano™, click the download button above. When you see the dialog box (like the one in the image below) click on the "Run" button.
Then simply follow the prompts provided to complete the download and installation of Everyone Piano™ on your PC.